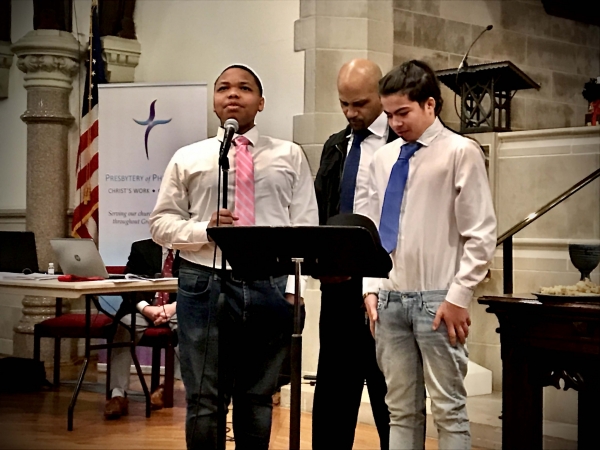 Congratulations to West Kensington Ministry, our Dream Tank Grand Prize recipient as voted on by the Presbytery. Their youth presented their initiative at Tuesday's Stated Meeting and shared how their Open Mic Nights cultivate safety in a neighborhood strained by violence. Our prayers are with you in this important work and witness to the gospel of peace.
2020 Dream Tank Finalists
The
Commission on Resources and Creative Ministries
  is pleased to announce the three finalists for our Dream Tank for Ministry Possibilities. Each of these initiatives will present five slides in five minutes before a panel at the
January 21, 2020 Stated Meeting
of the Presbytery. Following their presentations, our presbytery will vote on the Grand Prize winner, who will receive a $3,000 grant. The runners up will each receive a $1,000 grant. We give thanks for the way each of these ministries is daring to experiment for the sake of the gospel in their local contexts.
Our Three Finalists:
Church on the Bend (Church on the Mall): A new worshipping community launched in Conshohocken, Theology Lab is a new initiative which will provide better ways to connect with one another and to widen our imagination about God by connecting tenderly, creating together, and sharing communally. Theology lab will bring together unchurched and churched folks into a common and public space to collaborate on a creative justice-inspired project in light of conversations nurtured alongside those who attend.
West Kensington Ministry: Youth Open Mic provides a safe haven for youth on Friday nights in a neighborhood plagued with violence. The purpose of this initiative is to promote unity and simultaneously build community as we develop youth leadership. The hope is to leverage dollars to provide quality equipment and digital media platforms to share the story of our ministry.
Swarthmore Presbyterian Church: The Growing Young/With Workshop Initiative is driven by the desire to have churches be more of an inter-generational church. Swarthmore would like to bring surrounding churches together to a Growing Young/With workshop led by Steve Argue, Applied Research Strategist, and Author of Growing With. Their research shows all churches are growing old. Strategic churches grow young.
Click here for information and criteria on our Dream Tank for Ministry Possibilities Program.