We had yet another successful Ecumenical Equipping Event!
We give thanks to all who attended this year and for the on-going collaboration with the Southeastern Pennsylvania Synod (ELCA) and United Lutheran Seminary in Philadelphia!
Click below for links to the audio of redacted sessions from our gathering with with MaryAnn McKibben Dana. These are available on PresbySpeak, the podcast of the Presbytery of Philadelphia.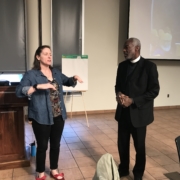 MaryAnn McKibben Dana is a sought-after speaker, preacher, conference leader and writer around issues of leadership, faith formation, and congregational transformation. Visit her website here: www.maryannmckibbendana.net  and order her book, God, Improv, and the Art of Living, here. A great resource for personal and congregational study and engagement.