"Folks we're on our way to St. Louis," said the pilot as our airplane began to taxi down the runway at Philadelphia  airport on Friday morning.
It was then it hit me.  After weeks of preparation – a deluge of mail, a daunting list of resolutions, and overtures  to be read for my assigned committee, "Church Polity & Ordered Ministry," commissioning at the July meeting of Presbytery, a video conference call with committee members— it was the pilot's words that made it real — I'm on my way  to "GA" a.k.a the 223rd General Assembly of the Presbyterian Church USA.
During these first couple of days of a long week, I am profoundly aware that we will be examining and voting on broad issues that include fossil fuel, per capita, parental leave for pastor's and staff, denominational restructuring, racial and social justice, and changes to the Book of Order. There will be tough questions and tough conversations. There are moments of feeling overwhelmed, but more moments of being mindful to listen to the will of God, as I am instructed to give serious consideration and prayerful discernment to these issues.
While I await my first committee meeting, there are three plenary business meetings to attend with more later in the w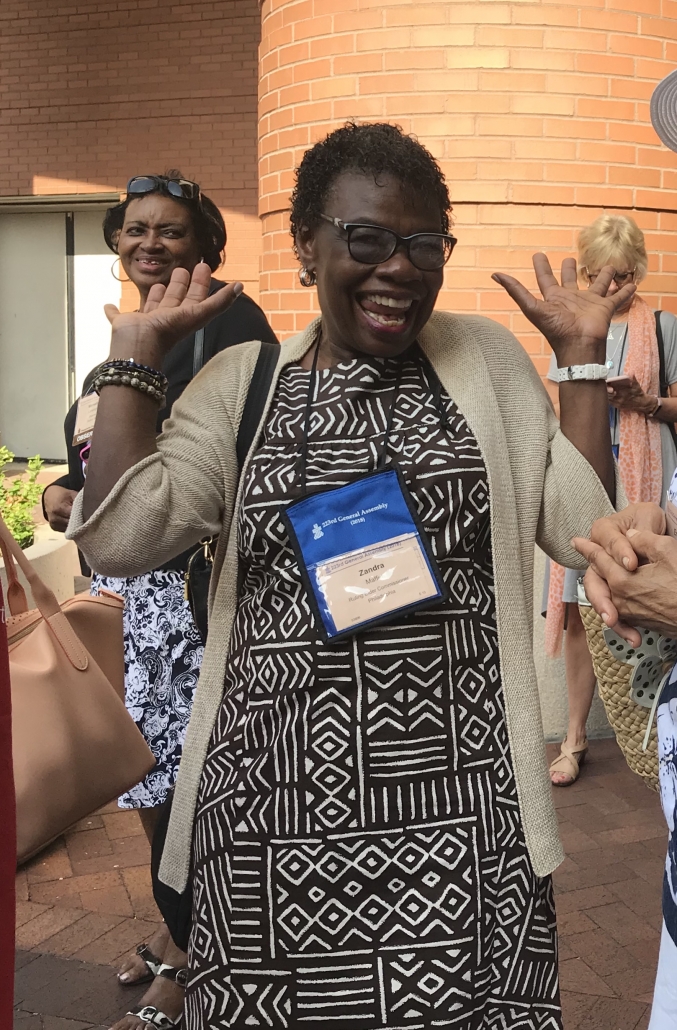 eek. I am meeting new people and getting reacquainted with old friends. Yes, we are a connected church. There is a spirit of joy, a genuineness to be together, an anticipation of an experience, that is a much welcomed diversion from news cycles that focus on division and brokenness.
The singing of the first hymn, "The Church's One Foundation," at the General Assembly's  opening worship service overwhelmed me with emotion as I looked around the convention center room at the beautifulvariety and diversity of people of God singing in unity. And that emotion continued to pour over me as I listened to an amazing, thought-provoking sermon on justice preached by the 222nd GA co-moderators.
As I witness the inclusiveness of this Assembly, the framing of a Church centered on justice and kindness and humility, I look forward to the Committee discussions, as difficult as they might be, knowing I'm surrounded by others also praying about the issues and challenges facing our denomination.
Elder Zandra Maffett (Valley Forge)
https://media.myworshiptimes22.com/wp-content/uploads/sites/12/2018/06/20152423/IMG_9383.jpg
2461
1617
Betsi Moise
https://presbyphl.org/wp-content/uploads/sites/12/2019/05/17APR_PresbyLogo_light-1030x452.png
Betsi Moise
2018-06-18 00:46:54
2018-06-18 09:24:13
A Church Centered on Justice, Kindness, and Humility: GA Reflections by Elder Zandra Maffett