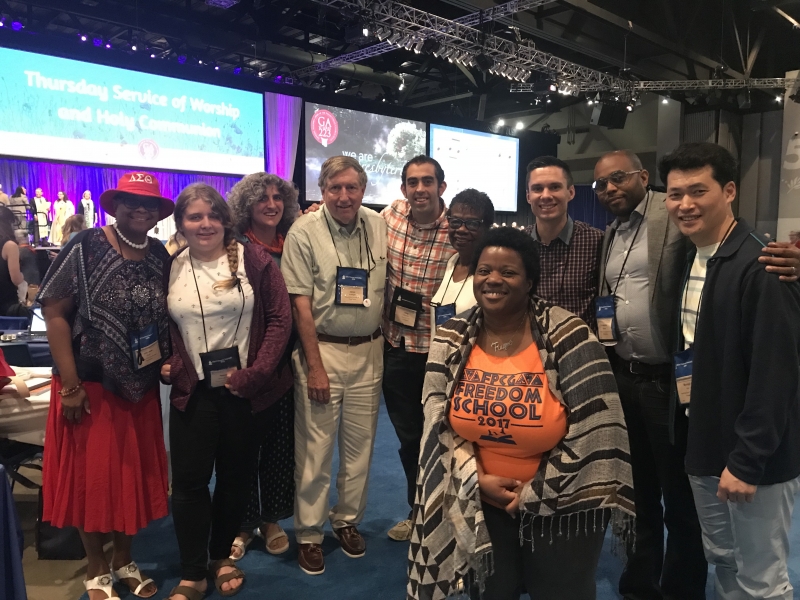 It has been a joy and a privilege to serve as the TSAD (Theological Student Advisory Delegate: representing Princeton Theological Seminary from the Presbytery of Philadelphia) this week at GA. This is my first GA and it has been fascinating to learn about its work and see the process in action. I entered this week with one predominant question on my mind: how does the work at GA affect the local church? In other words, should the local church be bothered caring about what happens at GA? While there are still two days remaining, my answer now would be a resounding, yes! My reasons for this response are multiple and I will elaborate on just a few.
First, the people gathered together at GA set an example for the type of social action that can be done in local churches and communities. Check out Rev. Chris Holland's piece from yesterday on GA's march to #endcashbail and consider ways your local community might similarly advocate for social change.
Second, GA is a tangible example of disagreement and unity in practice. Very few votes are unanimous; many are heavily contested. Yet, following debate and vote people get together to share their GA experience, pray together, and even salsa! It has been a beautiful and encouraging thing to see constructive disagreement in action.
Third and finally, the local church is supported by a wide range of people who care immensely about the PCUSA and its future. GA has been a beautiful time to learn about the myriad of resources and tools made available to the local church by GA and the ways the local church can get more involved. From the Presbyterian Foundation and PMA to social activism and theological accuracy, the GA has a vast expanse of resources that make being the church in our hometowns more feasible and fruitful.
I encourage you to check out the work done at GA or ask one of your commissioners from the Presbytery of Philadelphia (myself included)!
Brian Ballard
https://media.myworshiptimes22.com/wp-content/uploads/sites/12/2018/06/20152343/Ga223_Byungil_chris_brianB-e1529679876603.jpg
375
500
Betsi Moise
https://presbyphl.org/wp-content/uploads/sites/12/2019/05/17APR_PresbyLogo_light-1030x452.png
Betsi Moise
2018-06-22 11:04:49
2018-06-22 11:26:09
Assembly for the Local Church: GA Reflections from Brian Ballard, Theological Student Advisory Delegate