An Ever-Present Help by Isaac Baah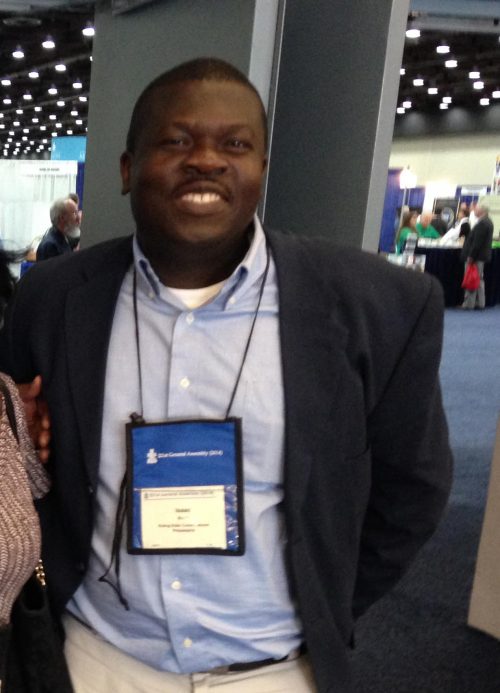 This is my first time attending General Assembly and I have been very impressed with everything so far. Although the conference has not yet come to an end, it has been a life-changing experience already for me. My experience started a week before I took off for Detroit. My wife and I traveled for a funeral and on our way back home, my wife had a massive stroke from a blood clot in the brain that affected one side of her body, her speech, and her memory. As a Ruling Elder who has been encouraging people in situations like this, this was a time that I needed to encourage myself in this dying situation which confronted me.
I remembered what the apostle Paul said in 2 Corinthians 1:3-4, "Praise be to the God and Father of our Lord Jesus Christ, the Father of compassion and the God of all comfort, who comforts us in all our troubles, so that we can comfort those in any trouble with the comfort we ourselves receive from God."
Based on this scripture, I prayed a short prayer that, if my wife recovers from the stroke attack by the following Friday, I will attend General Assembly which I have been anxiously looking forward to. Lo and behold our God was faithful – for my wife has completely recovered from the stroke which has not only boosted my faith in God but importantly revealed the unseen healing hand of our Lord and Savior Jesus Christ at HUP.
The above is to testify to the greatness of our God.
At General Assembly, I had the privilege of serving as a Commissioner on the Committee on "Ecumenical and Interfaith Relations". The two days of deliberations has really opened my understanding on things that I did not pay attention to previously. I had the opportunity to listen to several Seminary Presidents, representatives from other denominations, Imams and other committee members on issues on our ecumenical and interfaith relations with other religions and denominations.
One of the overtures that stood out in our discussions was Item 07-01 "On Distinguishing between Biblical Terms for Israel and Those Applied to the Modern Political State of Israel in Christian Liturgy"
The following is the position of the committee: "Though the committee voted not to approve 07-01, we take the matter of language and the tension around the use of the term Israel specifically very seriously. We hope the discussion and education about the use of language continues." I was confused after I listened to ten people who spoke for and ten people who spoke against this overture. At the end of deliberations, we voted to disapprove Item 07-01 with the above comment.
Committee discussions were done in the atmosphere of respect. At the end, we realized that there is still hope for the church although we may disagree on some issues.
I have been parochial in the way I deal with other denominations and faiths, but my perceptions have changed after serving on this committee. I am now in a better position to engage others to respect people of other faiths and religions. This will help to deepen their faith and foster peace among people of different faiths and religions.
I am very happy to be a Commissioner to the 221st GA and may God bless the PC(USA).
https://media.myworshiptimes22.com/wp-content/uploads/sites/12/2017/08/20152736/ga221_IsaacBaah-e1501863408770.jpg
693
500
Betsi Moise
https://presbyphl.org/wp-content/uploads/sites/12/2019/05/17APR_PresbyLogo_light-1030x452.png
Betsi Moise
2014-06-18 12:08:55
2018-06-13 10:20:48
An Ever-Present Help by Isaac Baah