Rev. Greg Klimovitz | January 9, 2018
In the midst of an increasingly divided and anxious world, there is a renewed sense of urgency for the playful and prophetic church.  Following the example of congregations and worshiping communities throughout the ages, churches today are being called to bear witness to the Good News of Jesus in the depths of brokenness and by a refusal to surrender joyous fellowship with our diverse neighbors.
This posture as playful prophet has framed the recent ministry of The Presbyterian Church of Chestnut Hill.  Located along the heavily trafficked Germantown Avenue, the faithful of the Chestnut Hill congregation have reimagined how to be a faithful and hopeful presence as they steward their space.  As Rev. Cynthia Jarvis, minister of The Presbyterian Church of Chestnut Hill (PCCH), commented, "We started [to think] about what witness we could we bear on our front lawn….How do we arrest the attention of our community?"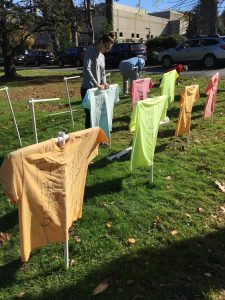 One way they have done just that has been through a t-shirt memorial in collaboration with Heeding God's Call, a faith-based organization PCCH helped found, that raises awareness about local and national gun-related violence. Moved by the nearly 300 Philadelphia gun-related deaths annually, the youth of the congregation installed t-shirts on the church's front lawn bearing the names and ages of the victims for all to see. As congregants and neighbors pass by the shirts, new conversations are generated, prayers lifted, solidarity extended, and questions raised as to how the church and community can be agents of change on behalf of those deeply impacted and victimized by gun violence. "It's really hard to ignore so many really colorful t-shirts on the lawn," added Rev. Austin Shelly, Associate Pastor at PCH. "We [now] have to have conversations that maybe we would sometimes prefer not to have."
This prophetic witness on the front lawn, was just one part of this past November's Festival of Music and the Arts open to the entire community. In addition to a performance of 26 Pebbles, a play about the shooting at Sandy Hook Elementary School,  the church invited over twenty artists to create portraits of victims of gun violence for an exhibit titled, Souls Shot. The exhibit is now on tour in Philadelphia and will hang in the state house rotunda in Harrisburg this summer. A nationally acclaimed composer, Lewis Spratlan, was commissioned to write a choral piece that reflected the reality of gun related deaths. Spratlan set poet Paul Kane's Unspoken Words, for choir and single trombone. The poem imagines the words that might be said if the gun, bullet, finger, body, blood, and siren could speak. The entirety of the festival not only highlighted artistic excellence, but also reclaimed the arts as prophetic platform for the church to engage the intersection of gospel and social concerns. "The people that came into the doors for that show didn't know that this church cared like that," noted Director of Music, David Spratlan, also the son of Lewis Spratlan.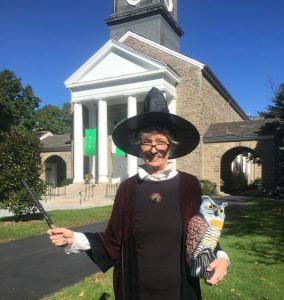 While PCCH may be known for social advocacy and a wide-range of ministry partnerships, their witness to the gospel is also deeply playful and imaginative. Nowhere is this more evident than in how their church has become a prominent stop for those participating in the annual Harry Potter Festival in Chestnut Hill. A weekend community event that has garnered both local and national acclaim, the church along the Avenue transforms their front lawn and indoor space into opportunities to extend hospitality and facilitate recreation. As participants venture from various Quidditch matches to other themed festivities, youth and adults dress in character, coordinate carnival games, serve refreshments and coffee, and even decorate vehicles to provide transportation for neighbors and visitors alike.
Originally a vision of Rev. Shelley, who attended with her daughter and wondered how to use the neighborhood event as mission fundraiser, the local Harry Potter Festival has grown into an opportunity to extend the welcome of Christ. As droves of patrons move among the outdoor space or enter the open doors of the church to nurse their babies, grab a hot cup of coffee, or simply use the restrooms, the Presbyterian Church of Chestnut Hill demonstrates that in the church all belong. Some have expressed to the church that this was the first time they had felt such generosity and inclusion. "That's the real reason why we do this," added Rev. Shelley. "It's evangelism in the best sense of the word at its core."
Whether raising awareness about local gun violence or transforming the church into social venue at Hogwarts, the Presbyterian Church of Chestnut Hill has begun to revitalize their witness within their congregation and community. "How do we present the church on the outside to the community," asked Brian Russo, director of youth and senior adult ministries at PCCH. "The youth [and adults] are understanding through back-to-back events that the church can be wildly different, from Harry Potter to planting crosses for those who have been killed."
In a deeply polarized world littered with more than enough reasons to despair, this just may be what our neighbors near and far are looking for- something wildly different where it is possible to be both prophetic and playful. May congregations throughout our Presbytery, much like the saints of The Presbyterian Church of Chestnut Hill, dare to explore how to hold in tension engagement with real neighborhood concerns and extensions of creative community fellowship.  Along the way, the Good News of God's love will be proclaimed from pulpits and front lawns, through requiems and children's literature, affirming the sacredness of both our playful and prophetic work in such a time as this. "It's not like we get members from this necessarily; sometimes we do," Rev. Jarvis concluded. "It is that we are the church for the world not ourselves. That is the turning, listening and seeing part of it."
Click below to listen to the audio interview with Rev. Greg Klimovitz and the leadership at the Presbyterian Church in Chestnut Hill (Rev. Cynthia Jarvis, Rev. Austin Crenshaw):