Clerks Corner: Categories of Membership, Defined by the Book of Order G-1.04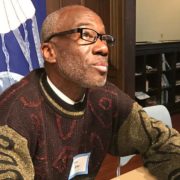 Greetings Clerks of Session!
The Stated Clerk's office has received quite a few questions regarding "membership" as our Clerks work through this season of statistical reporting. I have put together an extended definition of our categories of membership for you to use, and I hope it will prove helpful.
Book of Order G-1.04 (Categories of Membership):
"Affiliate" members (defined in G-1.0403) are members in good standing of other congregations who are physically away from their congregation for a period of time (g. a young adult who is a member of a church in North Carolina, but participates in the life of your church while in the Philadelphia area for college).  As you'll notice in G-1.0403, the designation of "affiliate member" is an act of session after it has documentation of good standing from the affiliate member's "home" congregation.
The other categories of congregational membership are "baptized" (defined in G-1.0401) and "active" (defined in G-1.0402):

A "baptized member" has been baptized but has not yet made a profession of faith of Jesus Christ as Lord and Savior.
An "active member"  is "a person who has made a profession of faith in Christ, has been baptized, has been received into membership of the church, has voluntarily submitted to the government of this church, and participates in the church's work and worship." (G-1.0401)

When the Presbyterian Church (USA) adopted its "new form of government" several years ago, we eliminated the "inactive member" category from the Book of Order.  (Some congregations still choose to make use of the term for their own reasons, but there is no expectation in our Presbytery or General Assembly that congregations keep or report statistics related to an "inactive roll" as had been the practice.)

At the same time the denomination did away with the inactive member roll, it added another designation to try to capture the experience of many of our congregations:  "Other participants" (as described in G-1.0404) represent all those who in some way could be considered "connected" to the congregation, but would not in the ways defined in the other three categories.  This would include those who would have previously been considered "inactive members" in the old form of government, as well as those of other or no professed faith who nonetheless "participate in the life and worship" of the congregation.
Now, the "spirit of the law" stuff: When I heard the former Stated Clerk of the PC(USA), Rev. Gradye Parsons speak about the change in the membership categories, I was struck by power of the "story behind the statistics" he was hoping to capture.  The "active membership" number is the committed core, the number by which the per capita is assessed, etc., but it doesn't necessarily reflect the vitality, welcome, or impact of the congregation in its community apart from the "other participants" number.  We are trying to count all the individuals in the communities where God has placed our congregations who would feel a personal sense of loss if our church were to disappear; or, to state it positively, those who have come to know more of the abundant life God intends for them (even if they might not describe it in those terms) because of our congregational ministry and witness.
Thank you for all that you do!
Kevin L. Porter, Stated Clerk
https://media.myworshiptimes22.com/wp-content/uploads/sites/12/2016/05/20152857/StatedClerk_BlogBanner.jpg
250
625
Betsi Moise
https://presbyphl.org/wp-content/uploads/sites/12/2019/05/17APR_PresbyLogo_light-1030x452.png
Betsi Moise
2017-01-13 10:43:18
2018-07-20 14:56:15
Clerks Corner: Categories of Membership, Defined by the Book of Order G-1.04