Delegation of Our Presbytery Leadership Collegium to Visit the Southern Border
The team has returned and we will he updating you all in the next few weeks as to what they have experienced. The delegation will also be the center piece of our November Stated Meeting.
They spent Wednesday in conversation and service alongside Pasos de Fe, a Presbyterian Border Ministry partner in Ciudad Juarez, Mexico. we are also grateful for the presence of Susan Krehbiel of Presbyterian Disaster Assistance.
____________________________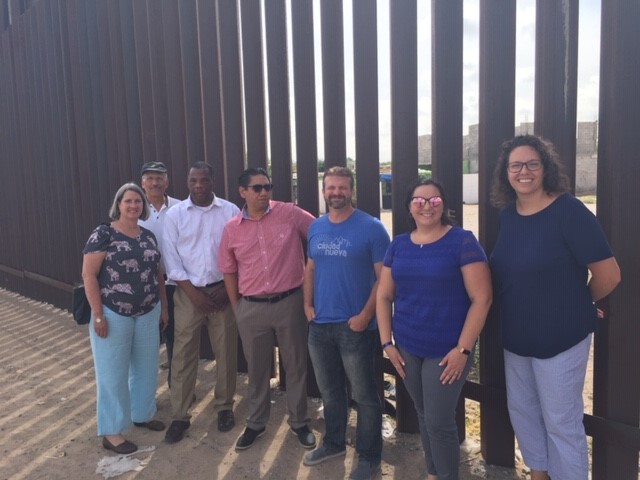 September 16, 2019 UPDATE: Our Presbytery's delegation to the southern border arrived in EL Paso last night.
This morning they began orientation with Abara Border Encounter, visited various sites along the border fence, viewed an art exhibit by detained children, and had theological reflections with the staff of Ciudad Nueva.
Please keep them in prayer and stay tuned for more updates, especially on Facebook and Twitter.
Stay tuned for more updates during their visit. 
________________________
About the Presbyterian Delegation Border Trip:
In recent months, we have heard growing concerns regarding the realities at the southern border of our nation – some 2,000 miles from the City of Philadelphia..  The expressed concerns range from the separation of children from families, the detaining of migrants seeking asylum, the images of sub-human conditions at the detention centers, and much more.  As a people committed to respond to the teachings of Jesus as clearly expressed in Matthew 25 – 'Truly I tell you, just as you did it to one of the least of these who are members of my family, you did it to me.'  We believe it important not only to speak on behalf our neighbors who cannot speak on behalf of themselves, but also to learn through first-hand encounters and shared stories. In so doing, we can faithfully and responsibly discern possibilities to bear witness to the gospel in our time and place, near and far.
In prayerful response, our Presbytery Leadership Collegium** has discerned a call to send a 5-person leadership delegation of the Collegium to visit an approved Presbyterian Disaster Assistance site September 15-18, 2019. This will be an exploratory vision trip to "encounter and see with our own eyes" the realities plaguing our southern border.  When this vision was shared at our May Stated Meeting, the details of the trip were in a nascent stage.  Today, we can announce formally that we are partnering with University Presbyterian Church (approved Presbyterian Disaster Assistance (PDA) site), a representative of PDA and a local approved organization in El Paso (Abara Frontiers), who will guide the delegation through conversations on both sides of the border.  Among the many conversations they will engage include Border Patrol officials, Asylum seekers, and residents of shelters in Juarez, Mexico.
We will be hearing more about this border encounter at our November Stated Meeting, Please keep the members of our delegation in prayer.  We also invite you to and check out the links below.
Delegation from Leadership Collegium (in alphabetical order)
Elder Megan Acedo, Moderator of the Committee on Representation, Member of Beacon Church
Elder Vijay Aggarwal, Vice Moderator of the Presbytery, member of Wayne Presbyterian Church
Randy Barge, Moderator of the Presbytery, Pastor of First Presbyterian Church in Olney
Samantha Hudson-Sale, Moderator of the Commission on Ministry, Pastor of Glading Memorial Presbyterian Church
Adan Mairena, Moderator of the Commission on Resources and Communications, Pastor of
Yeadon Presbyterian Church and Director of West Kensington Ministry
**Presbytery Leadership Collegium is made up of the leaders of our commissions and representatives from each of our regions.
Partner Organizations: