June 8, 2018
Dear Brothers and Sisters on the Journey,
In just one week, your elected commissioners and Young Adult Advisory Delegate (YAAD), other leaders facilitating General Assembly conversations, along with your Stated Clerk, your Associate Presbyter and your Executive Presbyter will find themselves at the 223rd General Assembly in St. Louis, Missouri, meeting from June 16-23, 2018. As we begin to make final preparations for this trip, we are confident we will all be richly blessed by gathering with thousands of Presbyterians from around the nation, along with guests from other churches in the world.
This year's theme, "But strive first for the kingdom of God and his righteousness," based on Matthew 6:33, is a reminder of our call to faithfully work to bring about "Gospel incarnation" into the brokenness of the world. Despite the brokenness around us, we are a people who believe that by the power of the Holy Spirit, we can be agents of transformation, providing glimpses of God's kingdom so that justice, love, and mercy can be experienced by all. Our eight commissioners and one Young Adult Advisory Delegate (YAAD) along with a Theological Student Advisory Delegate (TSAD) also from our presbytery, will be part of that transformative hope as they gather in their committees to learn, listen, discern, recommend, and vote on issues of concern to people of faith within our denomination from around our nation.
We ask for your prayers for each of our commissioners – that their hearts might be open to God's powerful Spirit; that they might model how to listen and engage brothers and sisters with whom they might disagree; that they might make new friends; and above all, that they will be a people of prayer and discernment as they seek to interpret faithfully the complexity of issues before them and the Assembly. Please lift them up by name: Elder Jim Ballengee, Elder Ron Cronise, Rev. Dr. Janel Dixon, Rev. Chris Holland, Rev. Byungil Kim, Elder Contina Lundy, Elder Zandra Moffett, Rev. Casey Thompson, and our YAAD, Madeline Taylor along with Brian Ballard (TSAD). Also pray for all who will be diligently working on committees and in different capacities. Read more about our delegation and follow daily reflections through our commissioner's blog here:
https://presbyphl.org/category/commissioners-blog/
As is tradition, the Assembly will be blessed by rich worship and biblical reflection. There will be celebration of new worshipping communities and creative ministry innovation. This is also a critical moment when 538 commissioners and 183 advisory delegates will gather from east and west, north and south to discuss the broad range of theological and social concerns that challenge our Christian witness. You can find out much more about each of the specific overtures and issues by going on the PCUSA website dedicated to the 223rd General Assembly https://ga-pcusa.org/ and our own webpage: https://presbyphl.org/223rd-general-assembly/. However, in an effort to introduce you to the breadth of the conversations scheduled for St. Louis, we are listing many of the topics below. A final reminder that any recommended changes to the Book of Order will need to go to the presbyteries for their consideration following the Assembly. Our presbytery will consider voting on them in November. All other General Assembly decisions serve as guidelines for the direction and work of our denomination over the next two years.
May the grace of our Lord Jesus Christ be with us all. Blessings and peace,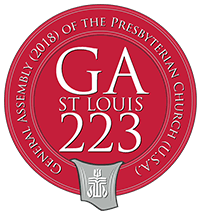 CLICK HERE FOR  A BRIEF SYNOPSIS OF THE ITEMS COMING BEFORE THE 223rd GENERAL ASSEMBLY
https://media.myworshiptimes22.com/wp-content/uploads/sites/12/2018/06/20152448/MAKING_Our_way.jpg
330
1130
Betsi Moise
https://presbyphl.org/wp-content/uploads/sites/12/2019/05/17APR_PresbyLogo_light-1030x452.png
Betsi Moise
2018-06-08 14:29:46
2018-06-08 14:54:29
Making Our Way to GA223