Unexpected God's Work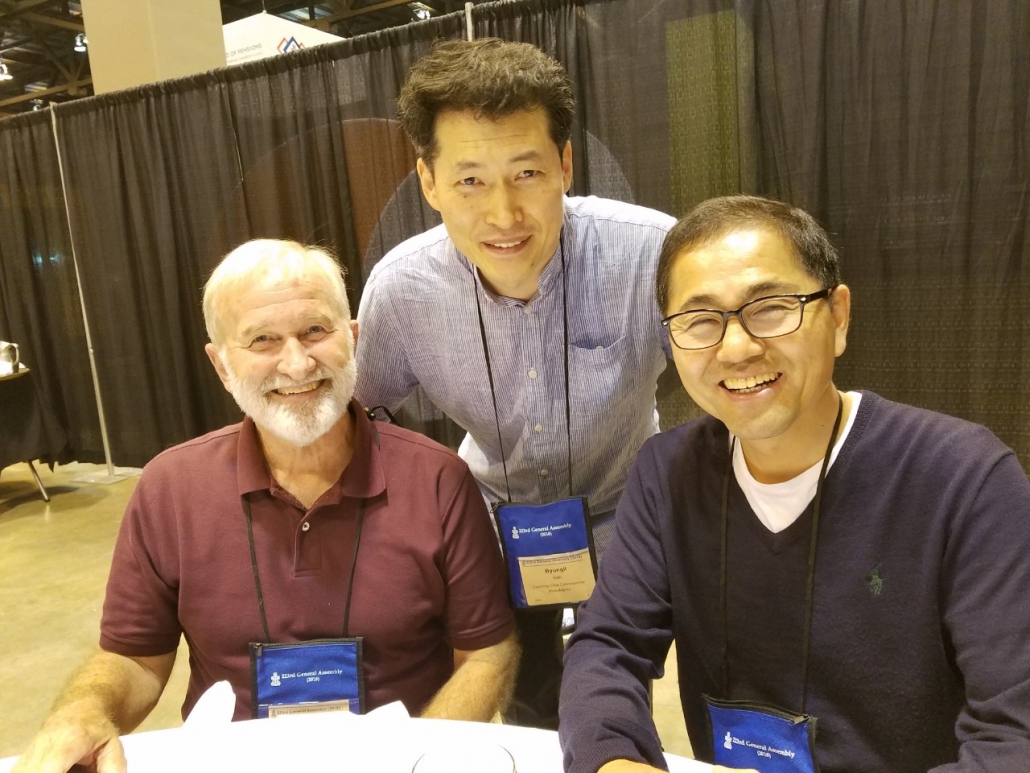 I couldn't imagine that God has a wonderful plan for me during the GA223 until I met a pastor who came from Trinity Presbytery in North Carolina. His name is Herbert Cordington. I met him at the lobby of the Marriot Hotel. He came and asked to me, "Where were you born?" I said, "I was born in Korea." Then he asked, "What city were you born?" so, I thought that he might not know if I would say the city. However, I said to him, "Kwang-Ju". Then he was surprised and said, "I was born in Kwang-Ju". When I heard that, I did not believe what he said. But he continued to say to me, "I was born in Yanglimdong". This time I was surprised since Yanglimdong is the place that I had lived for about 5 years when I was young.
I was so happy to see an American pastor who was born in my home town. This is what I have never expected. After that, I heard an interesting story regarding his family from him. His parents were the missionaries sent by the PCUSA in 1940s. After arriving at Korean, his father had served as a medical doctor at a hospital in Kwang-Ju city for 25 years. And Herbert Cordington had lived there for 18 years until he came to America. Herbert is still praying for Korea. He really loves Korean style food, culture, people, and church. I saw a lot of enthusiasm for Koreans in his mind. As I was talking with him, I felt God's unlimited love toward Korea. Also, I thought that I need to pay back what we got from the PCUSA!
I feel that now is the time to take turns. I think now is the time for me to give and contribute to others and my denomination. I hope that I can hear, see, and feel unexpected God's working during the GA 223.
Please see below for Rev. Byungil Kim's post in Korean
예상치 못한 하나님의 역사
김병일
노스캐롤라이나 트리니티 노회에서 온 한 목사님을 만나고 나서야 223차 총회 동안 나를 향한 하나님의 놀라운 계획을 발견하게 되었다. 그 목사님은 허버트 코딩톤이라는 분이셨는데, 내가 묵고 있던 메리어트 호텔 로비에서 만났다. 허버트 목사님은 나에게 다가와서 "당신 어디서 태어났어요?" 라고 물으셨다. 그래서 "한국에서요"라고 대답을 했는데, 또 물으셨다. "어떤 도시에서 태어났어요?" 내 생각에는 내가 대답을 해도 그분이 잘 모를 것이라고 생각했지만, 그래도 "광주요"라고 대답을 했다. 그랬더니 그가 화들짝 놀라면서, "나도 광주에서 태어났어요"라고 하는 것이다. 사실 그의 대답을 처음엔 믿지 못했다. 그런데, 그분이 "양림동에서 태어났어요"라고 하는 것이다. 이번에는 내가 놀랐다. 왜냐면 양림동은 내가 어린 시절 약 5년 정도 살았던 곳이기 때문이다.
고향에서 태어난 미국 목사님을 만나니 너무도 행복했다. 전혀 예상하지 못했던 만남이었다. 그리고 그 목사님으로부터 그의 가족에 관한 재미나는 이야기를 들을 수 있었다. 그의 아버지는 1940년쯤 미국 PCUS 교단에서 파송받은 선교사셨는데, 한국에 도착한 뒤, 광주의 한 병원에서 약 25년 정도 선교로서 의사로 섬기셨다. 그리고 허버트 목사님은 그의 나이 18세 쯤에 되어서야 미국으로 건너오게 되었다. 그런데, 그는 지금도 한국을 위해 기도하고 있다고 했다. 그는 정말로 한국 음식과 문화와 사람들과 교회까지도 사랑하는 사람이었다. 나는 그의 마음 속에 한국을 향한 뜨거운 열정이 있음을 느낄 수 있었다. 또한 그분과 이야기를 하면서 한국을 향한 하나님의 끝없는 사랑을 느낄 수 있었다. 이제는 PCUSA 교단으로부터 받은 사랑을 되갚아야겠다는 생각을 하게 되었다.
나는 지금이 바로 역할이 바뀌어야 할 때라는 생각이 들었다. 여지껏 교단과 또한 사람들로부터 받았던 은혜를 이제는 나눠주고 기여해야 할 때가 바로 지금이 아닌가 생각한다. 그리고 223차 총회 남은 기간도 예상치 못한 하나님의 역사들을 듣고 보고 느끼고 싶다.