Swarthmore Seeks Director of Christian Formation and Volunteer Ministry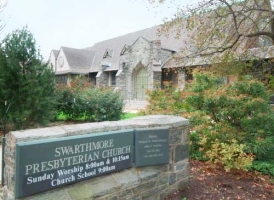 Swarthmore Presbyterian Church is seeking a three-quarter time Director to work alongside the Minister for Christian Formation to provide a relational and programmatically-strong ministry for the Christian Formation program area, which spans Children's Ministry, Youth Ministry, and Adult Education, and 2) to build up a Volunteer Ministry that deepens the transformational nature of volunteer and service opportunities in the spiritual lives of our congregants.
Swarthmore Presbyterian Church (SPC) is a vibrant and growing church community with close to 700 active members. Since its founding in 1896, SPC has been an enduring and dynamic presence in the Swarthmore community. We have been blessed with a legacy of stable pastoral leadership and a congregation that upholds both independent thinking and deep, abiding values. Here we equip ourselves to live faithfully and to share the gospel through service locally and globally. Our congregants are generous of heart and ready to serve.
Please click here for a full job description.
Interested candidates should submit a letter of interest and resume via the following link: https://www.indeed.com/viewjob?cmp=Swarthmore-Presbyterian-Church&t=Director+Christian+Formation+Volunteer+Ministry&jk=543f0adae0909166&vjs=3