The 224th General Assembly – "From Lament to Hope"
A Historic Virtual Online Gathering of the Presbyterian Church (USA)
(Brief reflections by Rev. Ruth Faith Santana-Grace)
The 224th General Assembly was indeed historic – making the first virtual and online gathering of the Presbyterian Church (USA) a technological success.  Although the assembly was to limit its business to critical and core items (for the continued operation of the church), the more than 400 commissioners and more than 180 advisory delegates found a way to lift their voices and concerns for the world at a time such as this where the tale of two pandemics – COVID-19 and Racism- have sent seismic shock waves around the globe.
One thing did become evident at this assembly – the polity and governance structures are both limited and based on assumptions of a decades' old-model,  making it more difficult to craft meaningful responses to the complex issues of the day in as timely and inclusive manner as possible.  As we know, we can be writing a sermon on Thursday and the world changes by Sunday.  This was particularly demonstrated when on the one hand, the acknowledgement of racism was prevalent – but on the other hand, a polity requirement of 2/3 vote to suspend standing rules did not allow for a conversation on the specific challenges for Black women and girls, leaving many in the assembly disheartened.  The church clearly needs to wrestle with what it means to gather and discern in ways that feel faithful, relevant as well as "decently and in order."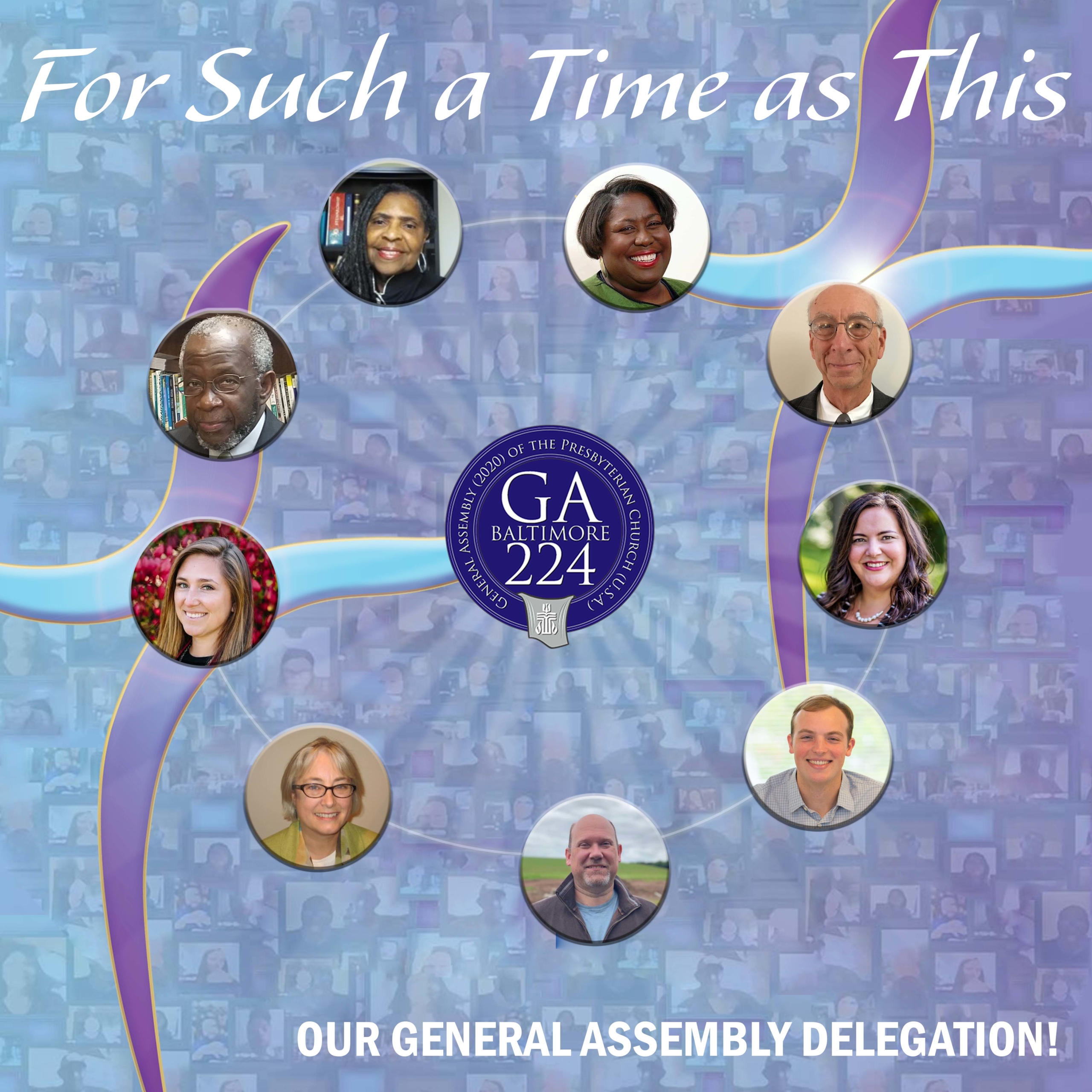 We are grateful for the faithfulness and boldness of our commissioners and Young Adult Advisory Delegate, whose presence contributed to the decisions and discernment of this unique assembly:  Ruling Elders:  Megan D. Acedo (Beacon), Eck Gerner (Swarthmore), Lois Hayman-El (West Philadelphia Presbyterian Partnership), Lloyd Higgins (Oxford), Ministers of Word and Sacraments:  Anna Grant-Borden (Mt. Airy), Pam McShane (Tree of Life), Leah Quarles (Anchor), Todd Stavrakos (Gladwyne) and Young Adult Advisory Delegate Will Gillespie (Wayne) participated in the Assembly from their homes, from First Presbyterian Church, Ambler, and the office of the Presbytery of Philadelphia in an attempt to create a hybrid assembly that allowed for  community building while maintaining social distancing.  As we were wrapping up four days of gatherings, the words used to describe their experience included: impressive, educational, inviting perspective, conflicted, eye-opening, resilient, roller coaster, exciting and encouraging.  We urge you to invite them to your churches to hear directly from them.  You will have a brief opportunity to hear them at our next Presbytery meeting on July 18th.
In the end, more than 400 commissioners, over 180 advisory delegates, along with hundreds of staff, churches, and spectators tuned in to take part in the first-ever, fully online 224th General Assembly (2020) of the Presbyterian Church (U.S.A.)
Some Key Items and Actions 
Appreciation for the ministry and serve of outgoing co-moderators of the 223rd General Assembly – Ruling Elder Vilmarie Cintrón-Olivieri and the Rev. Cindy Kohlmann. They co-preached a message at the opening worship service. https://ga-pcusa.org/ga224-videos/
Election and Installation of 224th General Assembly Co- Moderators: Elder Elona Street-Stewart, executive of the Synod of Lakes and the Rev. Gregory Bentley, Fellowship Presbyterian Church, Huntsville, Alabama. Along with their election comes the symbol of the Sankofa bird standing in a stream of water –the Mississippi River – as a representation of both African American and Native American cultures. On historical note, Elona Street-Stewart is the first Indigenous Person to serve in this position.
https://www.presbyterianmission.org/story/224th-general-assembly-elects-street-stewart-bentley-co-moderators/
The following items can be found in their fullness at: https://www.pc-biz.org/#/
Unified Budget for 2021/2022 for Office of General Assembly and Presbyterian Mission Agency – with no increased per capita due to the current financial challenges and anticipated consequences caused by COVID-19. \
Election and Installation of the Rev. Dr. J. Herbert Nelson as Stated Clerk of the PCUSA for a second, four-year term. Nelson encouraged the Assembly, "We cannot be locked inside of our buildings, and I believe even through this virus we have come to find out that the building is not essential to the work we have to do," he said. "It is good to have one, but it is not essential to share the love of Jesus Christ and our heart for Christ in the work that we are being called to do."
Amended the denomination's Child/Youth/Vulnerable Adult Protection Policy and Its Procedures.
Referred many items initially coming to the 224th Assembly of business to the 225th Assembly
Adopted Resolution – Responding to the Sin of Racism and a Call to Action that included, but was not limited to:

PC(USA) churches and presbyteries would approve anti-racism policies
PC(USA) agencies are to review business items to be referred to the 225thGeneral Assembly to ensure coverage under social witness policy
An eight minute and 46 second silent vigil would be held before the end of the assembly, to acknowledge the time George Floyd was pinned at the neck by a Minneapolis police officer.
This resolution was developed in collaboration with Presbyterian Peace Fellowship, the Presbyterian Health Education and Welfare Association, and the assembly Committee on Business Referrals (on which Megan D. Acedo served).  https://www.pc-biz.org/#/committee/3000076/business
The following sums up the overall spirit of the resolution "We have been slow to face the reality of systemic racism. We have been slow to acknowledge the pain of our fellow Presbyterians, Christians and citizens, and of those who have come to America for a better life," the substitute motion read. "We believe the work of attending to the pain, suffering, and long-standing oppression of our BIPOC siblings (Black, Indigenous and People of Color) in Christ is central to our work of proclaiming the Gospel of Jesus Christ." (Megan D. Acedo, Presbytery of Philadelphia)
Offered the Church's presence and advocacy for those affected by the COVID-19 pandemic
In addition to actions taken at the Assembly, the PCUSA prominently participated in the Poor People's Campaign Virtual March on Washington, which drew more than 1.1 million viewers on the livestream platforms. https://www.poorpeoplescampaign.org/
The offering collected throughout the week also was distributed to the Youth Rising Coalition, a network of young entrepreneurs positively impacting the city in partnership with the Presbytery of Baltimore. https://baltimorepresbytery.org/youth-rising/