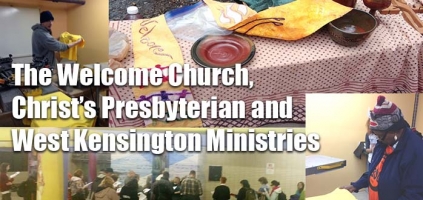 Hospitality and Job-Training Alongside People Experiencing Homelessness
The Welcome Church, an ecumenical church without walls and shared Lutheran and Presbyterian ministry, holds Sunday worship on the Benjamin Franklin Parkway and meets during the week in a variety of donated Center City spaces. The Welcome Church is also currently working on two new initiatives: The Well and Welcome to Work.
The Well, a Great Ends Grant and Covenant Fund recipient of the Presbytery of Philadelphia, was created in response to a cry from women on the street for a safe place to lay their heads during the coldest months of the year. The Welcome Church, in partnership with Trinity Memorial Church and Bethesda Project, created a model of community and safety shaped by the women themselves. When the program moved from a three-month pilot to a six-month program, the city, in recognition of the strength of their model, asked about having The Well open year round. A large part of this success was due to the warmth and hospitality offered by Pastor David Sanchez and the people of Christ's Presbyterian Church in South Philadelphia, who opened up their doors and their hearts to the 23 women who passed through their doors this winter.
Welcome to Work is a combination of job training and confidence building comprised of two different Welcome Church initiatives: a construction crew under the guidance of a professional contractor and a printing business in partnership with the West Kensington Ministries based WKM printers. Under the guidance of Pastor Adan Mairena and graphics designer Keith Moroz, the Welcome to Work crew of printers has the capacity of printing as many as 500 custom tee shirts for your church or business.
The Well and Welcome to Work are but only two of the ways miracles happen when we come together as the people of God. To learn more about either of these two projects or to become involved in any of our Welcome Church activities, contact Pastor Schaunel Steinnegal at [email protected]
Read a previous Covenant Connections story here.
https://presbyphl.org/wp-content/uploads/sites/12/2019/05/17APR_PresbyLogo_light-1030x452.png
0
0
Betsi Moise
https://presbyphl.org/wp-content/uploads/sites/12/2019/05/17APR_PresbyLogo_light-1030x452.png
Betsi Moise
2017-08-10 09:08:35
2018-11-02 11:12:24
The Welcome Church, Christ's Presbyterian and West Kensington Ministries