CALL FOR ARTISTS!
West Kensington Ministry is hosting the 2020 Stations of the Cross: Through the Artists' Eye  on Good Friday, April 10, 2020 beginning at 3:00 p.m.
Artists, in their own medium, create a piece based on one station of the cross. The stations will be placed in Norris Square Park and people process from station to station on Good Friday as the artist share reflect on their work. To participate, artists may call  267-879-6310.
The Stations of the Cross, also called The Way of the Cross, is a devotion to the passion of Christ consisting of prayers and meditations on fourteen occurrences that were experienced by Christ on His way to the crucifixion. During the time of the crusades (1095-1270), it became popular for pilgrims in the Holy Land to walk in the footsteps of Jesus to Calvary. Originally done only outdoors, the Stations were allowed inside churches in the mid-18th century. The Stations of the Cross are a Catholic devotion which commemorates the Passion and death of our Lord Jesus Christ. Each of the fourteen stations represents an event which occurred during Jesus' Passion and death at Calvary on Good Friday.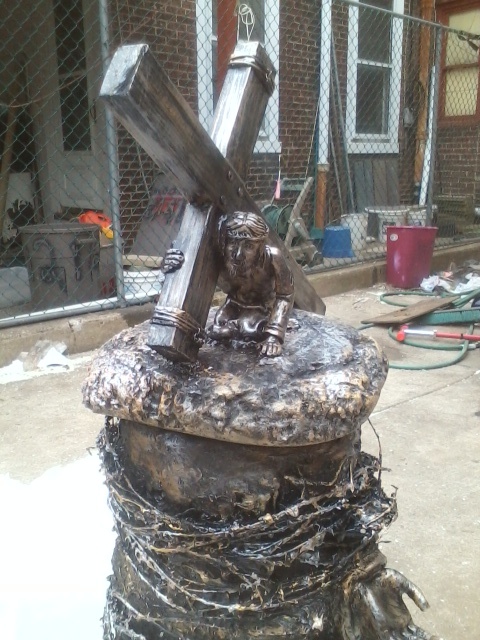 Stations Available (with Scripture references):
Christ Condemned to Death Mark 15: 1-15
His First Fall Isaiah 53: 4-7, John 1:29
He Meets His Blessed Mother Luke 2:25-40 Lam.1:12, John 19: 26-27
Simon of Cyrene is Made to Bear the Cross Mark 15:21, Mark 8: 34,2 Tim.2:3
Christ's Face is Wiped by Veronica Isaiah 53:2-3, Matthew 25:40
His Second fall Psalm 38: 6-22, Isaiah 63:9
His Third Fall Psalm 37:23-24 Hebrews 4:15-16
He is Stripped of His garments John 19:23-24,Psalm 22:16-18
His Crucifixion Luke 23:33-43, John 19:1
His Death on the Cross John 19:28-37, Matthew 27: 50
His Body is Taken Down From the Cross John 19:38-40, Psalm 22:14-15
He is Laid in the Tomb Mark 15: 46-47, Matthew 27:57-61